There are many reasons to party. Whether you're celebrating a special occasion, a winning sports bet, or maybe you want to make a bad week better, there's always an excuse for a night out.
But with so many options, where do you choose to go? There are so many factors which contribute to a great night out. That's why we wanted to make that decision easier for you.
We've looked at taxi rates, nightlife attractions, Airbnb rates, and casinos to find out which US cities are the best for a night out.
Best Places to Party in the US
If you're looking for a great place to party, then there are many things to consider. Don't worry, we've done that for you. We've looked at nightlife attractions, taxi fares, Airbnb rates, and casinos to find out which US city is the best for partying.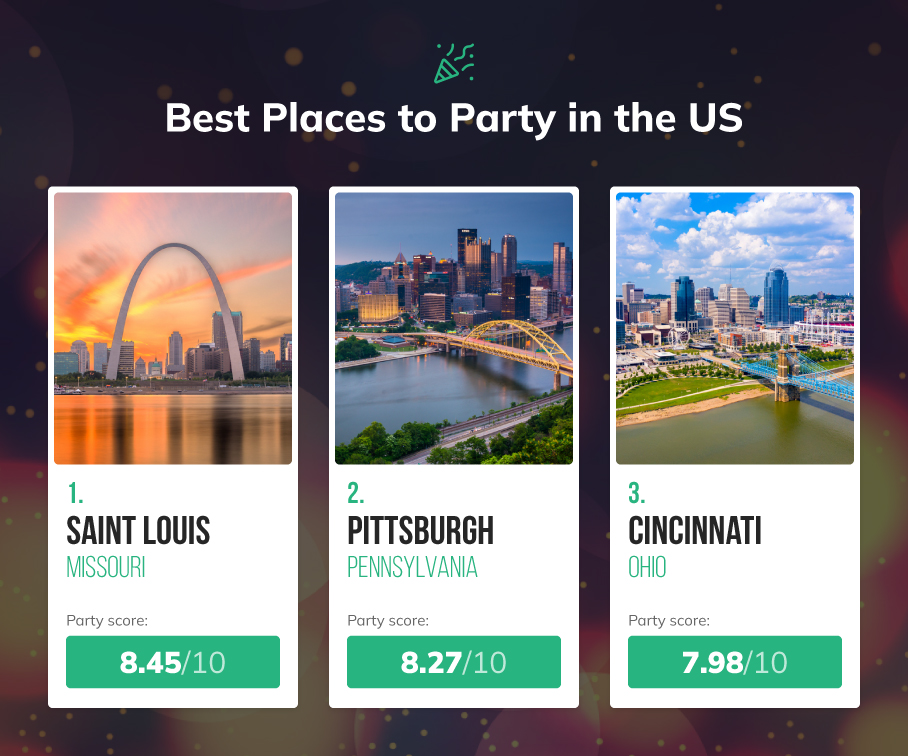 1. Saint Louis – 8.45 party score
While you might expect the likes of Las Vegas or New Orleans to take the top spot, the actual party capital of the US is Saint Louis, Missouri with a party score of 8.45 out of 10. Saint Louis is the home of The Gateway Arch which is 630 ft tall and the tallest arch in the world. Saint Louis is also home to the largest brewing company, Anheuser-Busch InBev, owners of Budweiser. Whether or not you like Budweiser, Saint Louis is a great place for partying as it has the fourth-highest number of nightlife attractions per 100,000 people, as well as the fourth cheapest Airbnb rate.
2. Pittsburgh – 8.27 party score
In second place is Pittsburgh with a party score of 8.27 out of 10. Pittsburgh is known for its contribution to the steel industry, but the real steal is a $1.98 per mile taxi ride back to your Airbnb, which is the second cheapest taxi fare on our list. An Airbnb is just $157 on average, which is one of the cheaper prices too. With 30 skyscrapers and 446 bridges, it's also a beautiful city which can look great on your Instagram feed.
3. Cincinnati – 7.98 party score
Completing our top three is Cincinnati with a party score of 7.98 out of 10. Cincinnati is no stranger to beer, so much so that it became known as the 'beer capital of the world'. The Ohio city still has over 50 breweries which you can explore in preparation for the evening ahead. Joint with Pittsburgh, Cincinnati has the cheapest taxi fare at $1.98 per mile to get you home from any of the 22 nightlife attractions the city has to offer.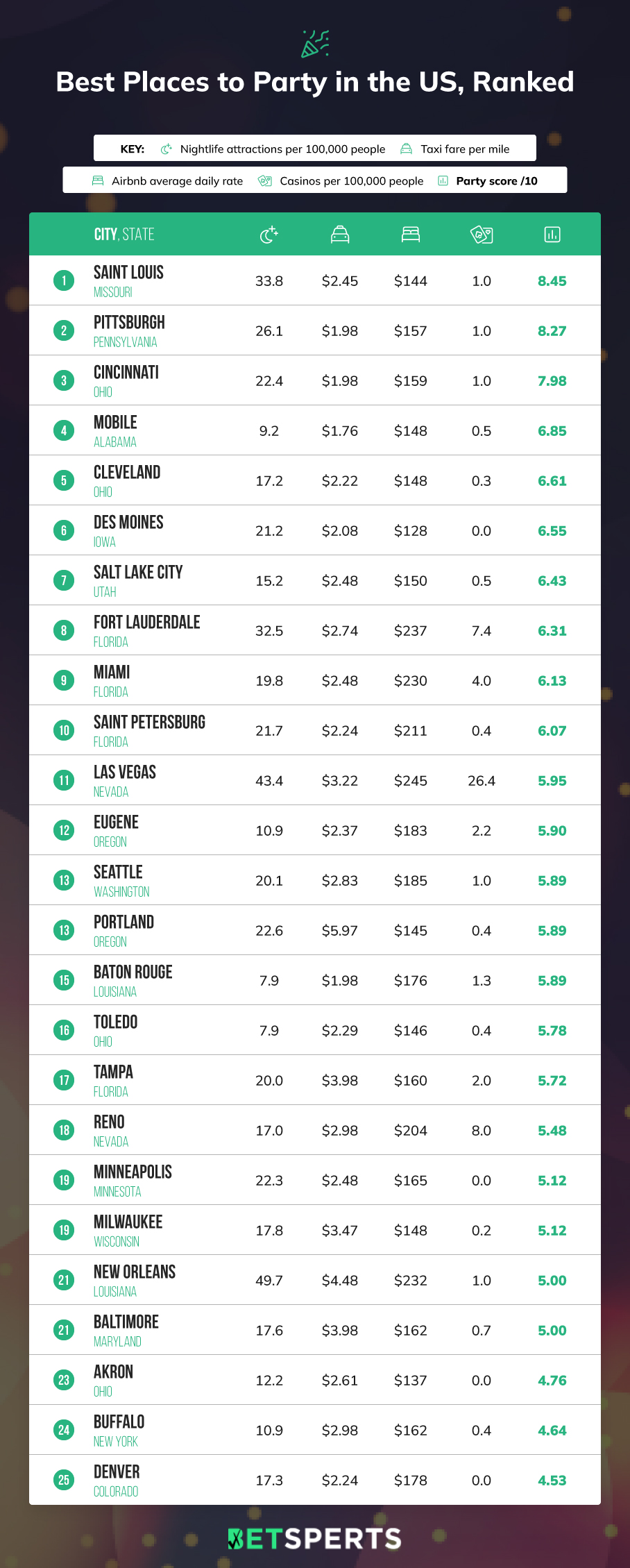 The Best US City for Nightlife
We've looked at the number of bars and clubs in each city, to find out which place has the most attractions.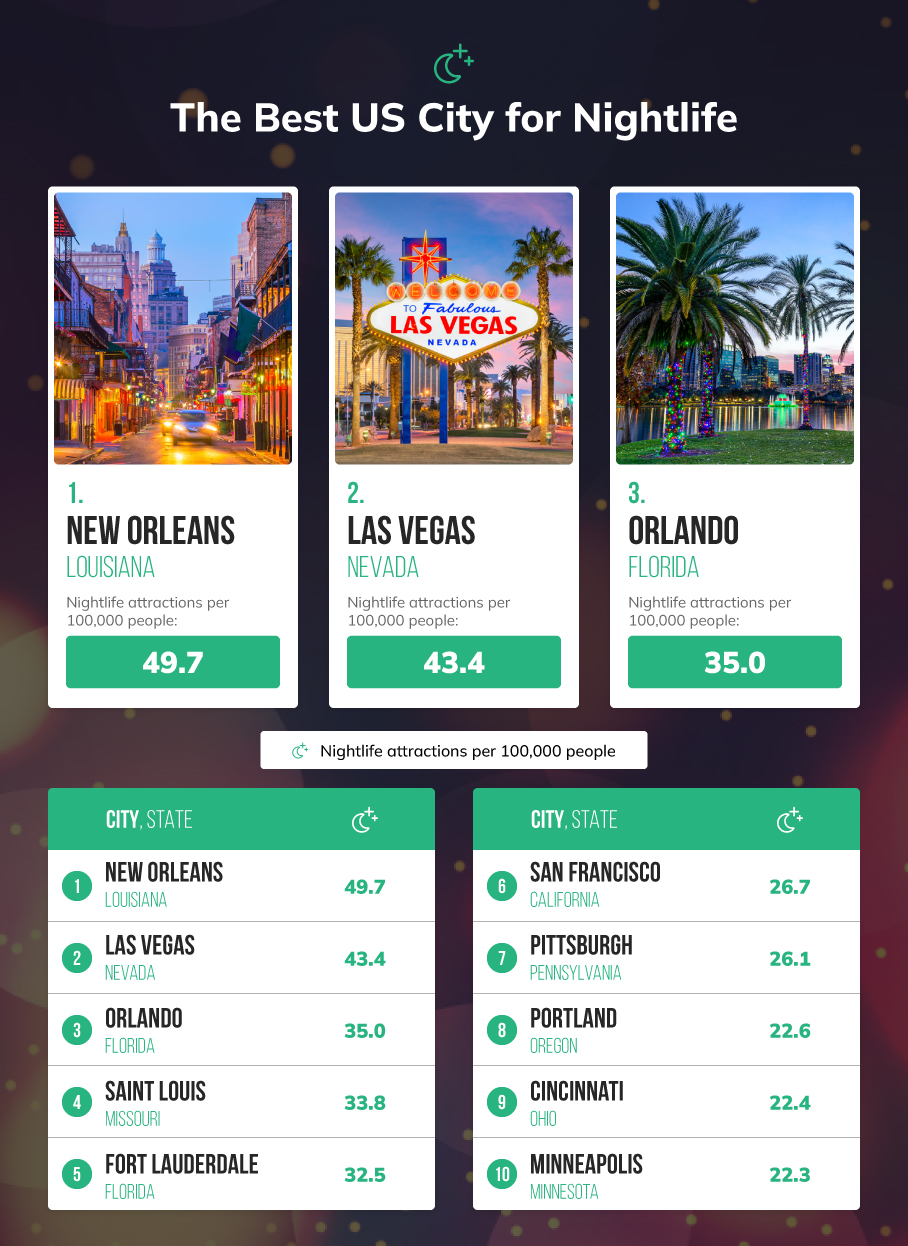 1. New Orleans – 49.7 nightlife attractions
New Orleans has the most nightlife attractions out of any city on our list with just under 50 per 100,000 people. New Orleans is renowned for its music, annual celebrations, and festivals. One of which is Mardi Gras which is filled with parades and celebrations across a two-week period.
2. Las Vegas – 43.4 nightlife attractions
In second place is Las Vegas with 43.4 nightlife attractions to choose from. Vegas is known as the gambling capital of the US after the popularity of legalized gambling. At night, Vegas is one of the most stunning cities in the world with a vibrant show of lights along the main strip. Las Vegas will also host an F1 street race during the 2023 season.
3. Orlando – 35 nightlife attractions
Completing our top three is Disney World's home city, Orlando, which has 35 nightlife attractions per 100,000 people. Orlando attracts 60 million visitors each year which is no surprise given what this city in Florida has to offer. The weather is warm, and there are plenty of things for you to do, no matter what your interests are.
The Cheapest Taxi Fares
Whether you're at home, or going to an Airbnb, getting a taxi after partying all night can be expensive. That's why we wanted to find out which cities had the cheapest taxi fare per mile.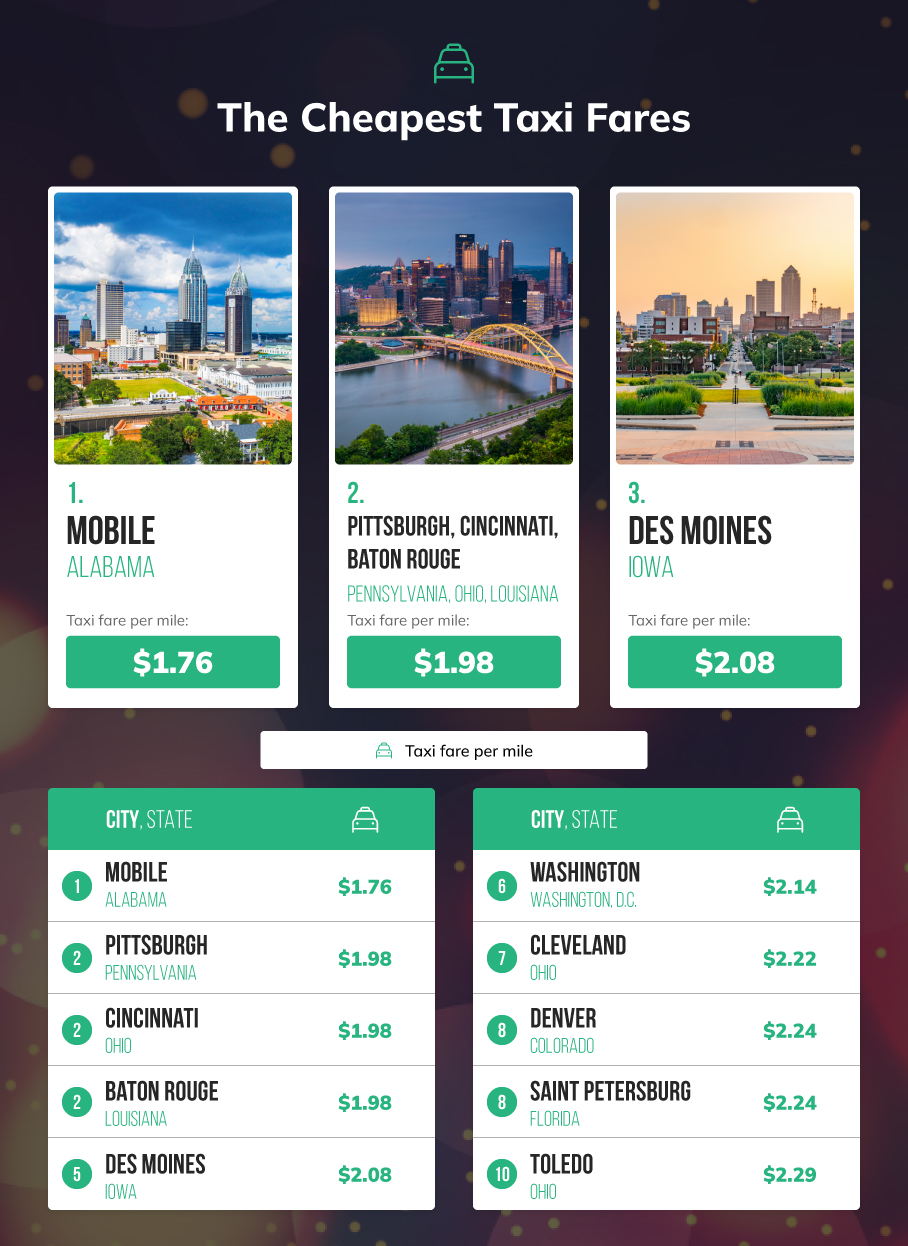 1. Mobile – $1.76 per mile
Alabama's Mobile is the city with the cheapest taxi fares at just $1.76 per mile. Mobile has several art museums as well as plenty of historic architecture to enjoy. Mobile also has a great history of partying. Mardi Gras is Mobile's very own annual carnival celebration, as is the oldest official carnival celebration in the United States.
2. Pittsburgh/Cincinnati/Baton Rouge – $1.98 per mile
The second place is split between three cities, Pittsburgh, Cincinnati, and Baton Rouge, which all have a taxi fare of $1.98 per mile. Despite Baton Rouge's cheap taxi fares, the Louisiana-based city couldn't make the top 10 for our best partying cities. Baton Rouge has just 18 nightlife attractions, whereas Pittsburgh and Cincinnati both have over 70.
3. Des Moines – $2.08 per mile
The third-best city to party completes our top three with a taxi fare of $2.08 per mile. Des Moines doesn't have the highest number of nightlife attractions, but it's certainly a money saver when coupled with its Airbnb price.
Cheapest Airbnbs
If you're going to a new town to party, then Airbnb will be your cheapest option. We've revealed the cheapest Airbnb rates so you know what city you can save the most money in.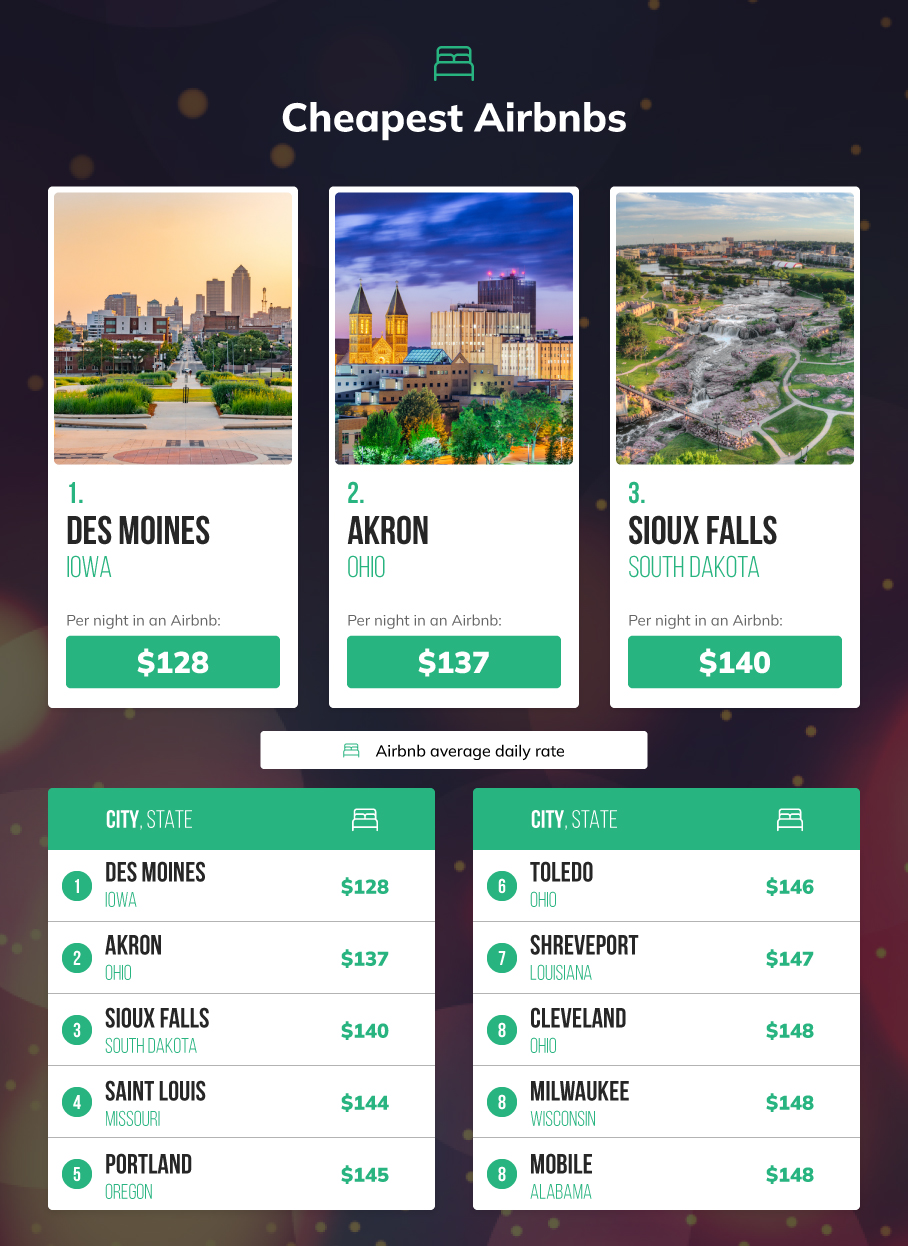 1. Des Moines – $128 per night in an Airbnb
Des Moines is becoming a regular feature in our top three, this time taking the top spot with the cheapest Airbnb rate at $128 per night. Des Moines has 473 Airbnb rentals to choose from, ranging from $102 to $141 per night. Unfortunately, just 7% of these have a pool, which means a pool party may not be on the cards.
2. Akron – $137 per night in an Airbnb
In second place is Akron with an average Airbnb cost of $137 per night. Akron has earned the nickname of the Rubber Capital of the World due to its long history of rubber and tire manufacturing. Akron is also home to Quaker Square, which was the original factory for Quaker Oats. However, it is now a dormitory for college students.
3. Sioux Falls – $140 per night in an Airbnb
South Dakota's largest city completes our top three with an average Airbnb rate of $140 per night. Sioux Falls is home to one of the biggest music festivals in the US, LifeLight Festival, which attracts over 350,000 people. It's also a city full of culture. Not only is there a bronze casting of Michaelangelo's Statue of David, but there is also the Shoto-Teien Japanese Gardens which is full of pagodas, ponds and waterfalls, and koi fish. A perfect place to explore and feel like you're in Japan.
The Casino Capitals of the US
One way to add to the memories of the night is by going to a casino and winning some money. That's why we wanted to know which cities in the US had the most casinos.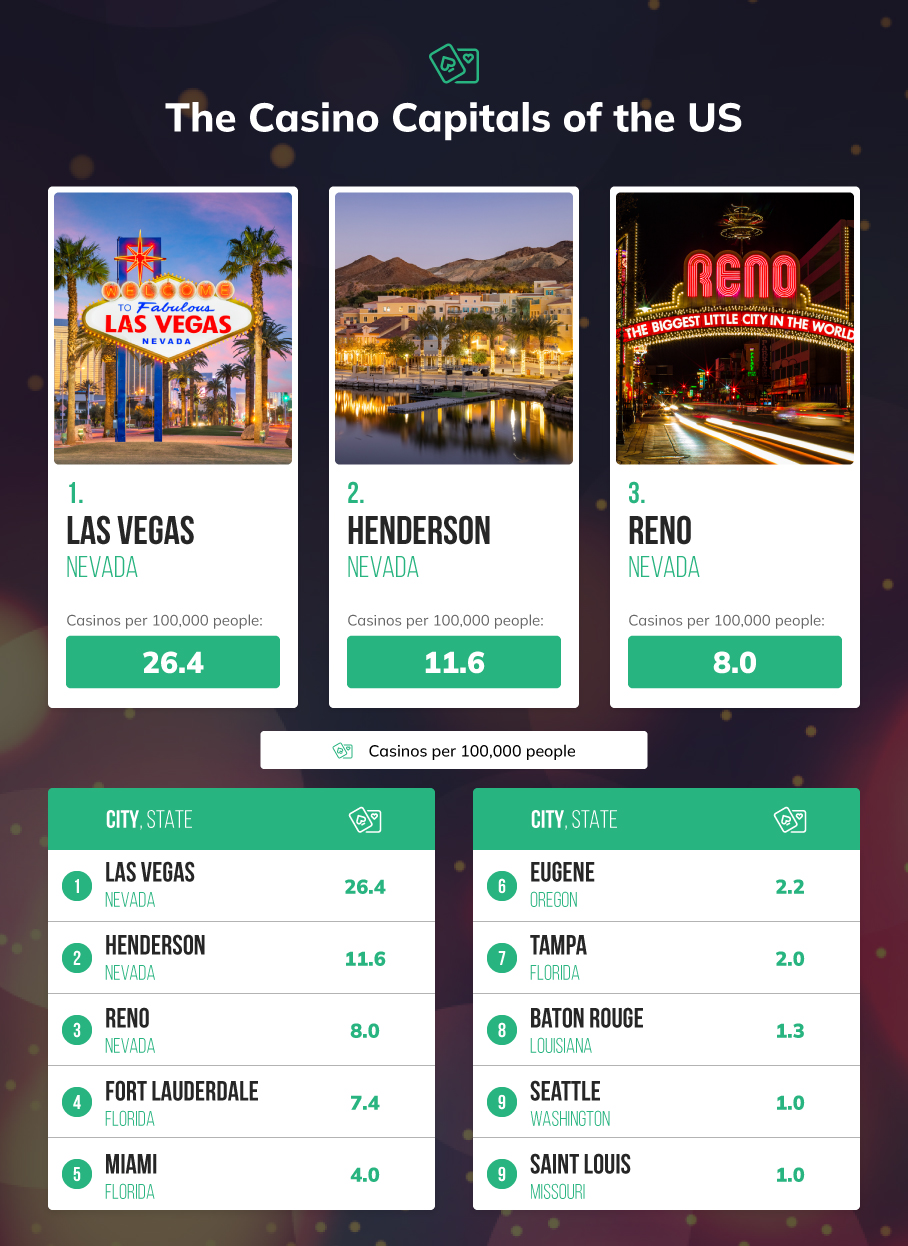 1. Las Vegas – 26.4 casinos per 100,000 people
Of course, it's Las Vegas that takes the top spot with 26.4 casinos per 100,000 people to choose from. One of the most famous casinos in the City that Never Sleeps is The Bellagio. The Bellagio is famed for its luxury shopping and its stunning fountain. It's also a familiar place for movie fans, as it also provided one of the sets for the movie, Ocean's 11.
2. Henderson – 11.6 casinos per 100,000 people
Henderson takes second place with 11.6 casinos per 100,000 people. As well as its great supply of casinos, Henderson is a great city if you like to explore the outdoors. It has some incredible scenery, whether you like to cycle or hike, and it was also named the greenest city in Nevada.
3. Reno – 8 casinos per 100,000 people
Completing the top three of Nevada cities is Reno with 8 casinos per 100,000 people. Not only is Reno known for its casinos, but it's also a big place for tourism, whether it's art, culture, or food that excites you. One of the best casinos here is Silver Legacy which is one of three distinct casinos connected by a walkway downtown. What is incredible about this casino is that the casino lights up green at night, reminiscent of the Emerald City from the Wizard of Oz.
Methodology
For this campaign, we took Bestlife's top 50 hardest-partying cities for our seeding list.
Using this list, we then used Tripadvisor's things to do page for each city and took the number of results for Bars and Clubs.
We then used World Casino Directory for the number of casinos in each city.
We then used Numbeo to find out the dollars per km in a taxi. We then multiplied this figure by 1.6 to get a dollars per mile figure.
We then used Air DNA to find out the average daily rate for an Airbnb.
To find populations to calculate the attractions and casinos per 100,000, we used World Population Review.
Finally, we put the following data into a weighted table to give each factor a normalized score out of 10. We then took an average of the scores to get an overall score out of 10 to crown the USA's Party Capital.